Men's Ministry
The design of our men's ministry is to foster different types of environments to encourage men to flourish in their walk with God. Below are two entry points and some tools to help men to connect and explore what it means to be a man of faith.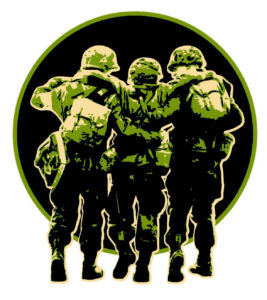 Foxholes are places to regroup and refocus in battle. Jesus said that our ability to handle the storms of a life well is our ability to put his teaching into practice. Foxholes are gatherings of three to five men committed to learning how to live out the Kingdom of God in their lives at home, work, and play. They meet weekly at different times and locations throughout the community. If you would like to be part of a Foxhole group or have a group of guys interested just looking for some coaching, fill out a Foxhole info card, and someone will be in touch with you.
BREAKFAST

WHO: Men of all ages are welcome to attend. Breakfast is an excellent time for young and old to gather for food, fun, and faith.
WHAT: Each monthly breakfast has a unique theme to spur conversation and lead us into a spiritual dialogue to spur us on to become Godly men. Regardless of where you are on your spiritual journey, we invite you to take the opportunity to meet other men and begin to build friendships that have the potential for lifetime impact.
WHEN: We meet monthly, usually on the first Saturday of the month at 8-9 am. Click on the image to the right for the details on our next breakfast.
WHERE: Cape Alliance Church, 4307 Skyline Blvd, Cape Coral, Florida 33914. Church Telephone: (239) 542-7844.
PERSONAL BIBLE STUDY TOOLS